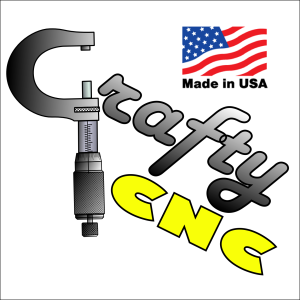 Thanks for stopping in and taking a look around CraftyCNC.
Crafty-CNC's goal is to provide the hobby machinist tools and Mach3 wizards to improve functionality and ease of use for probing operations.  Crafty-CNC was started in 2013 to introduce and provide the items I've been working on for some time to a wider audience of hobby machinists and enthusiasts (of which, I consider myself).  I've been selling my touch probes on eBay for a little while now with good feedback on the design and functionality.  Now I'm taking the next step in starting a business.
Crafty-CNC is not a full time company.  Please note that Crafty-CNC is run by me, myself, and I…  I'm a full time mechanical engineer at my day job.  My second job is being a dad to my two young children.  Crafty-CNC is really my third job, run in what little spare time I have left.  So if you inquire about a product or service, please note that it may typically be a day or two before you get a response.  Items ordered will typically be shipped in a day or two after receipt of the order.  I take pride in what I manufacture and sell, and do my best to provide prompt service, but please respect that I won't always be able to respond to emails within minutes or ship an item the same day.
Thanks much, Eric Brust